Birmingham's Conservatoire Folk Ensemble release their first full studio album on Sunday 11 June 2017.
Entitled Painted the album sees the 50-plus members mash traditional folk music with more global and eclectic influences, and will be officially launched at Power Folk 4 – the ensemble's annual all-dayer, which takes place at The Spotted Dog, Digbeth on the same day.
Painted: Track-By-Track
Here's ensemble founder and leader Joe Broughton's run down of Painted.
Banish Misfortune / Poll Ha'penny
"Banish Misfortune is one of my absolute favourite folk tunes. I've always loved it but it's so good that it took me a long time to think of some riffs, to think of an approach that did the tune justice and didn't ruin what's good about the tune. There's a big percussion break joining the two tunes together. When you have five percussionists in the band it is great to give them chance to let loose, you can imagine how this is developed live! Poll Ha'penny was never supposed to be on this album but when working on the live show the electric guitar section wrote a new section for it which I love, so it just had to be included."
The Graduate
"This is a piece written by guitarist and bass player Sal Broughton (yes he's my little brother). It has very fast become a favourite of the ensemble. Sal is like me, very much into a good riff, and I think the one he's put to his tune here is awesome, as well as the melody being a really inventive reel."
Cant de Batre (Threshing Song)
"Dani is a Spanish (Valencian) trumpet player who joined the band last year and he brought this song and tune, partly traditional and partly composed by him on the theme of the song, to the band. It's a brand new one that I know is going to be a hit with audiences. The exploration of changing time signatures and feels in this one will keep you guessing, it does me! The song is sung by Samantha Oxborough who I have to say is an exceptional musician. Sam plays Euphonium on the instrumentals, is a first study opera singer, and is here doing a mighty job of singing a Catalan folk song…"
Pimentons Torrats amb Oli i Sal
"This piece was written by our brilliant Valencian trumpet player Dani Blance Albert, it includes a frightening number of time signature changes and is influenced by the Threshing Song that comes before it. The song and this tune feel like you are out in the heat and make us all very thirsty… Dani is also an exceptional cook so no wonder he named this after food!"
Fairy Dance / The Day That Changed Everything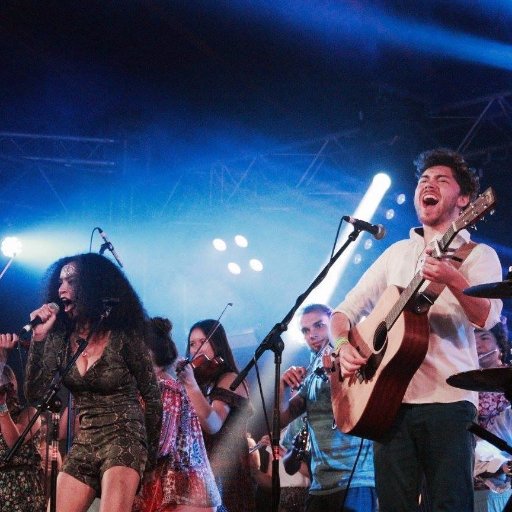 "After 20 years of finding great folk music to do arrangements of for the band I thought I'd have a stab at Fairy Dance, just to see what happened. Fairy Dance is a tune I have always hated so it was really just an experiment! Before I knew it I was going down all kinds of crazy avenues looking for the right harmonies and in the end I like it, which probably means that if you liked the tune to start with you're not going to like this. You get a more traditional version to start with then you get my version, which is a bit more 'Birmingham' than perhaps it should be. The second tune in the set is one that I wrote, and is as the title would suggest, about a specific day that changed everything. Perhaps you can think of a moment in your life after which nothing was ever the same again? That's exactly what this one is about."
Rain and Snow
"Rosie Tunley arranged the really imaginative parts for this traditional song. The band is stripped down on this one but it's still 'power folk.' It's a great advantage to the band that amongst the 50-plus members we always have some great singers, and the lead vocals on this one are done by Rosie Tunley and Rosemary Wilkes. The feeling they bring to it combined with the harp motif and emotive strings makes for what could be one of the best cuts of the album."
The Butterfly / Kodo
"The Butterfly is another classic tune that I love when it's done traditionally, but here we give it the full Folk Ensemble treatment with a monstrously unsubtle blues riff jammed in the middle – it shouldn't work but somehow it does. Kodo is a Japanese tune brought to the band by Josh Wunderlich. Perhaps one of the hardest pieces to play, we have spent many, many hours rehearsing this as there are a lot of notes in it!"
Tek bir güneşin altında yürüyoruz (We March Under One Sun)
"I composed this piece very recently to simply say that if you're marching in protest or marching in celebration, if you're marching to war or marching back from the pub, you're all doing it in the same place, you are the same people, under one sun."
William Taylor / Shots Reel
"For me the greatest acoustic band in recent history is Whippersnapper. The great force of Dave Swarbrick, Kevin Dempsey, Martin Jenkins and Chris Leslie was really something that you had to hear in person to believe it. They gigged extensively in the 80s and 90s and I never missed an opportunity to see them. On their last studio album was this gem written by Kevin Dempsey (although the words are adapted from a traditional song). Kevin Dempesy is one of the most underrated musicians in the UK and so I take great delight in bringing out one of his songs to be heard again. I wrote the tune Shots Reel to add a bit of my own twist and the song is sung by Julie Claire, who perhaps sways slightly more towards a Beyonce than a Carthy in everyday life, but I think her version of this song is incredibly refined and beautiful."
Ruchenitsas / Lattinmore
"This pair of Ruchenitsas predates even my involvement with the ensemble. Back when the ensemble was just a college elective rather than a gigging band my very good friend Frank Moon taught this one to the group. We've recently revisited the tunes, and I've written a couple of riffs to go with them, so it's nice to include them as a hark back over the 20 year history of the band. At a rehearsal a few years back the then bass player, Mike Lattimore, quipped that I should write him a tune to go on the end called Lattinmore – so that's what I did. This does mean that we end up with a kind of South American section to the Bulgarian track but hey … let's call it globalisation!"
LISTINGS
Sunday 11 June 2017
Power Folk 4
The Conservatoire Folk Ensemble's annual all day power folk party. With special guests inc John McCusker, and Gilmore and Roberts.
Spotted Dog, 104 Warwick Street, Digbeth, Birmingham B12 0NH
Doors 3pm, music from 4pm 'til late
Folk Ensemble on at 6.30pm. Tickets £9 / £6 (conc) / £12 (inc album, if purchased in advance, before 9 Jun).
More details: www.folkensemble.co.uk
The Conservatoire Folk Ensemble feature musicians from Birmingham City University's prestigious Conservatoire. Previous members have included Jim Morary and members of The Fair Rain/ Old Dance School.
Previous articles: Power Folk 3 (2016)